Buduo Teahouse by Wanmu Shazi
the 'Buduo Teahouse' features repurposed cement cylinders 
Several years ago, while searching for a new site to host his woodwork workshop, an abandoned cement factory in Xiamen, China, caught the eye of designer Wanmu Shazi. Sitting at the foot of a hill surrounded by verdant topography in the distance, the architecture reveals a suburban context with farmland nearby.
During the renovation, Shazi decided to retain most of the factory's original structures, including its giant cement cylinder towers. Their monolithic appearance encouraged him to work with fellow designers and artists who helped transform the cylindrical interiors into several unique spaces that would attract like-minded creatives. As a result, the 'Buduo Teahouse' is born.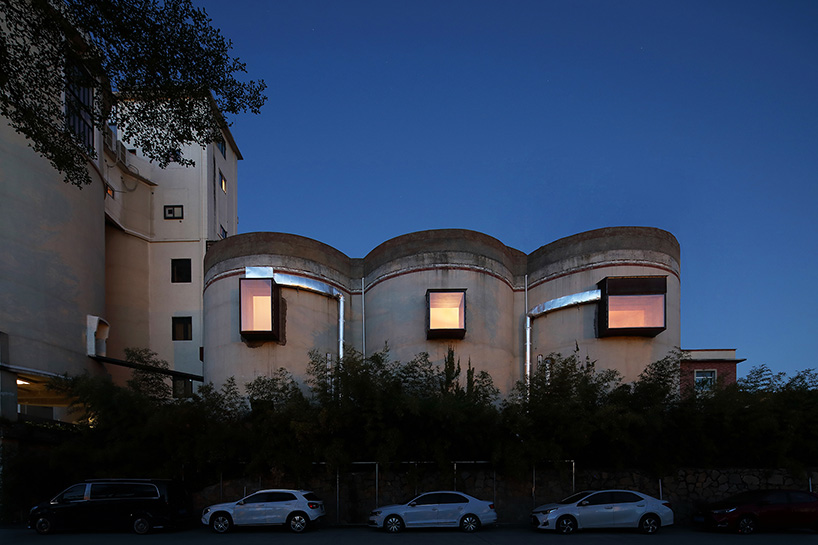 All images © 1988 Photography Studio / A Qi (unless stated otherwise)
a creative hub evoking spatial expression + intimate materiality
After repeated interventions over two years, the converted factory features today a 15-meter-tall 'Meditation Teahouse', an artist studio, a woodwork exhibition hall, and Shazi's home and workspace, among other programs.  In the process, the designer came to a realization: 'Sometimes, space is just like people. With a good figure, complexion and temperament, there is no need for much decoration.' 
Perhaps such a conviction pushed him to name the project 'Buduo', which roughly translates to 'not much' in Chinese. Indeed, visitors can note how little ornamentation fills the renovated interiors. Instead, the 'Buduo Teahouse' only conveys pure spatial expressions and intimate material finishes.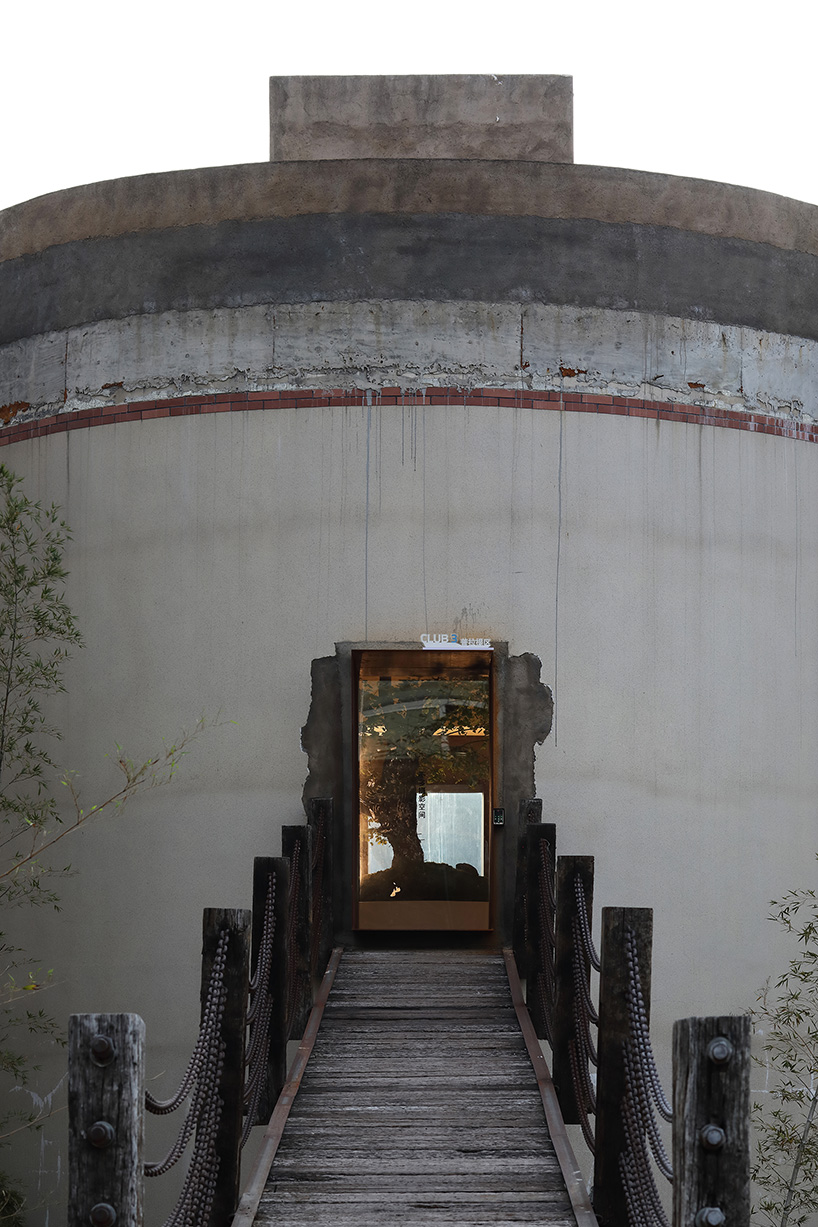 A narrow wooden bridge leads to the main entrance, where visitors pass through a door made of rusted steel and glass. Inside, a foyer holds a tree crowned by a skylight at its center, offering a distinct and instantly calming ambiance. Like a courtyard, the foyer connects and leads to five other circular rooms through doorless passageways that echo each other, producing a sense of layering and unique spatial rhythms.
In line with his vision, Shazi embellished the six areas with indoor landscapes and framed views of the mountain scenery thanks to subtly carved-out wall openings, creating a unique play of light and shadows. To unify that spatial ambiance, tactile wooden floors, expansive thick walls, plain textured coatings, vents hidden near skirtings, and unadorned ceilings adorn the repurposed interiors, further accentuating the circular design.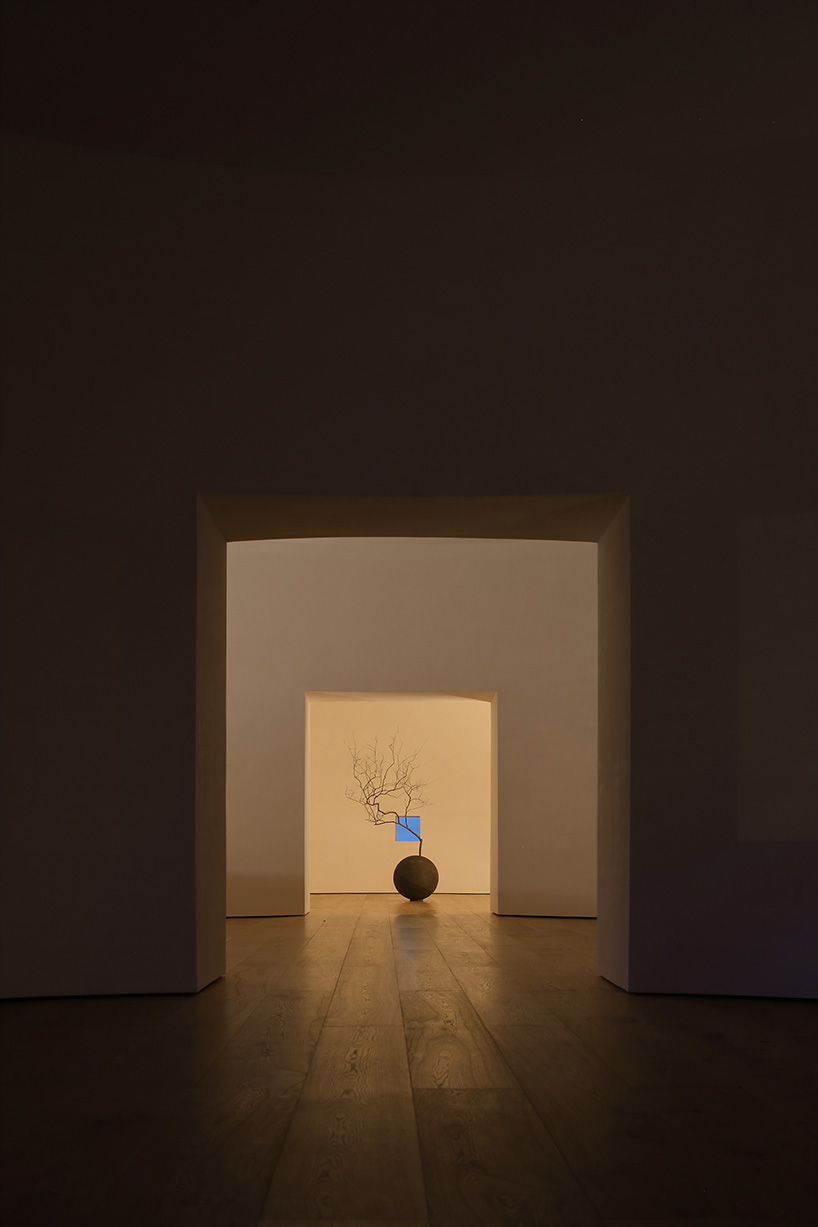 aesthetic simplicity, human scale, and inclusive 'qi' 
Beside spatial simplicity, the designer also considered human scale to ensure physical comfort: 'During the renovation, I repeatedly walked the interiors to find the most suitable scale and positions for window openings, hoping to create a final layout that gives visitors the impression of being 'wrapped' by the space.'
That said, Shazi used the Chines concept of 'Qi' (energy, material force) to set up the spatial ambiance of the 'Buduo Teahouse'. He believes that quality design needs to focus on essence rather than form to stimulate both emotional and sensory experiences. 'In this space, people cannot help but slow down. The soft sofa placed in the corner invites visitors to sit down and relax. Humor and serenity are fused here, giving the impression of time stopping.'
Program wise, the converted factory offers enough room for the designer's woodworking workshop named 'Wanmu Gongfang'. But, more importantly, its various and distinctive spaces can host creative professionals from around the world and serve as venues for exhibitions and exchanges.
With a mindset exploring spatial roles, Wanmu Shazi has established a chain for creative incubation — inviting the public to know more about China's cultural and design industries while offering a platform for the growth and support of young creatives.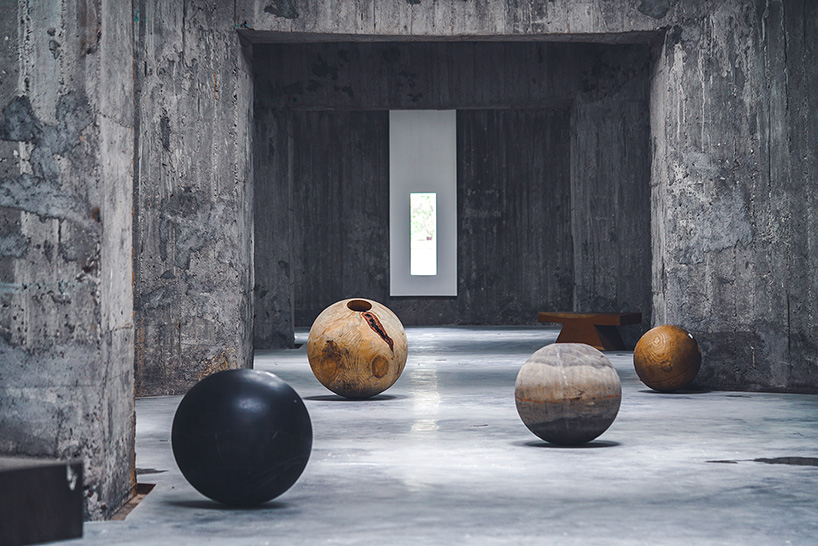 Image © Xiao Ya