Actually, He Died: A Good Friday Meditation
Several Christmas Eves ago, Jeanne, Justin and I were invited to share dinner with a friend from work and her family, which includes two precocious and very active children. On display was a beautiful crèche, surrounded by all sorts of interesting items—who knew, for instance, that there was a duck and an elephant (both roughly the same size as the baby) at the manger? My friend is from Italy; her mother annually sends new additions to the crèche scene from the homeland, often forgetting the comparative size of the items she sent in previous years. Our friend's five-year-old daughter introduced Justin to the various characters in a monologue interrupted only by a few confirming comments.
And these are some shepherds, those are goats and sheep, that's a dog a turkey and a cow, these are some angels, and that's the baby Jesus.
Oh, really?
Yes. Actually, he died.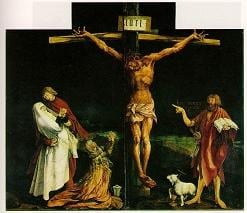 Yes he did, as Good Friday somberly reminds us. It is traditional for Christians, anticipating the end of the story and what will happen in three days, to attempt a symbolic descent into the depths of pain and devastating disappointment. But there is no evidence that any person among Jesus's family and followers expected that he would rise from the dead.
The crucifixion was an unmitigated disaster and they fled in fear for their lives. Some hid in anonymous locations to escape arrest. Some simply went home. The bravest among them planned to show respect for the dead body in traditional ways. Various hopes and dreams were shattered. As the travelers to Emmaus said, "We had hoped that it was He who was going to redeem Israel." But actually, he died. End of story—time to move on.
The idea of a suffering and dying God is not new—there are many traditions supported by myths and stories of a divinity suffering and dying for various reasons. But this story is so intimately personal, so representative of the crushed hopes and dreams, the inescapable pain and suffering, that are fundamentally part of the human experience. That's what makes Good Friday so poignant and what made it so devastating for those who were there, those who had tied their lives to this man. He seemed to be something more, but turned out to be the same as everyone else—human, limited, subject to suffocating power and injustice, to the random events that ultimately shape each of our stories. We had hoped—and he died.
Simone Weil suggests that the entire story of redemption is contained in the Incarnation and the Crucifixion. If the story ended with Jesus executed as a criminal and dead in a tomb, we still would have reason to believe in a God of love. Our very existence, as well as the existence of the reality we inhabit, is evidence of God's choice to create in order to love. The story of a God who becomes fully human, who lives a life in time subject to all things each human being is subject to, including suffering, pain, loss, tragedy, injustice, and death serves to drive the point deeper. No supernatural cure for suffering is offered in this story, no promise that God will take pain and loss away. Rather a supernatural use for suffering is offered. Isaiah promises that the Messiah will be called "Emanuel—God with us." Good Friday reveals just how far the divine chooses to go with us—into the depths of despair and death.
I saw a poster recently with a dark twist on a familiar saying. "It is always darkest just before—it goes pitch black." And God is there.